CNN
American golf legend travels to Munich, Germany to receive adipose (fat)-derived stem cell therapy
Jack Nicklaus tells of the stem cell therapy he had to treat back pain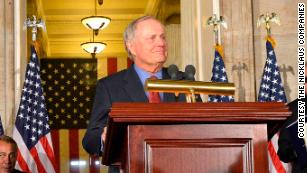 On February 22, 2016 in Jupiter, Florida, Jack Nicklaus teed off at his famous fundraiser, The Jake, to benefit children's health. While he wowed the crowd, as the Golden Bear has been doing for five decades, none of the fans knew that just four days earlier Nicklaus had undergone an experimental stem cell therapy in Munich, Germany.
For much of his professional golf career Nicklaus has had aggravating back pain that he describes as an eight or nine out of 10 on the pain scale. While most golfers live with some degree of back pain Nicklaus said his was particularly debilitating. Despite trying therapies ranging from cortisone shots to a back operation the pain persisted. At the time he flew to Munich, Nicklaus was willing to try anything, even an, as of yet, unproven treatment.
If you don't know much about Jack Nicklaus, you can be certain your parents or grandparents do. He is one of the true sports legends of the United States. With 120 professional tournament victories and a record 18 major-championship titles, he is one of 16 individuals in history to receive both the Presidential Medal of Freedom and Congressional Gold Medal for his outstanding achievements in sports and philanthropy.
Jack Nicklaus has a record 18 golf major championship titles.
Nicklaus said he has taken roughly 10 million swings with a golf club, but when you hear his backstory, it is a wonder his career ever happened. Even before he became a professional, Nicklaus was having severe enough back pain to warrant nine cortisone injections into his back. (These are done to insert medication between the joints to relieve inflammation and pain). He was only 19 years old at the time. While they worked for a short time, Nicklaus played with significant pain for parts of his career. At the age of 64, he underwent a minimally invasive spine operation to relieve the pressure on his spinal nerve roots, which provided some relief for much of the last 14 years, but not nearly enough. Even basic chip shots and putts were too painful.
Nicklaus at the 1986 US Masters became the oldest winner of the tournament.
It was at a birthday party in December of 2015 when Nicklaus first met German stem cell pioneer Dr. Eckhard Alt. Intrigued by what Alt told him about this experimental therapy, 78 year old Nicklaus once again became a student, reading up on Eckhard, the clinic and the possibilities of stem cells. Within a couple of months, he was convinced adipose stem cells, found in abdominal fat, may be something that could finally provide lasting relief for his aching back.
Fast forward to February, 2016. At the Isar Klinikum in Munich, Germany, Nicklaus was prepped for the procedure. After getting a shot of local anesthesia and light sedation, he underwent liposuction on his abdominal area to harvest the stem cells, which come from the blood vessels. The fat in the human body is a rich source of these blood vessels. Three ounces of fat was extracted from his abdomen.
The abdominal fat was then strained with an enzyme called Matrase to break down fat tissue and release the pure stem cells in large numbers (roughly 75 million cells) without modifying or changing the nature of the cells. The slurry mix was then spun down through a centrifuge to get a concentrated islet of stem cells. This process took about an hour. After a quick check for contamination, the cells were injected back into Nicklaus's body.
Nicklaus received 10 injections in his back on each side of his lumbar spine, or lower back, and four in his cervical spine, or neck. Out of the whole process, Nicklaus said the liposuction was the worst part. "I mean, I was black and blue from the middle of my chest all the way across my hip down to my groin. And uh, it was not pretty for about 10 days."
While he didn't feel "immediate relief," he did notice "the pain he used to feel while actively playing golf, had subsided after a few months".
In Rome at Unite To Cure, the 4th International Vatican Conference, created by the Cura Foundation and The Vatican's Pontifical Council for Culture, CNN spoke exclusively with the Golden Bear and his doctors about why he was a good candidate and how the treatments have worked for him.
The technical name for the problem plaguing Nicklaus is facet joint syndrome, and Alt, a stem cell researcher and surgeon, said he considered all options for the famous golfer. "For this back pain there was no other option without side effects or risks. He could have taken oral anti-inflammatory medications daily with side effects or continual cortisone injections but that would have only treated the symptoms. The other thing would be to stiffen up the back with screws and metals to stabilize but that has a high risk of complications. I would only use it for fractures and then that part of the back is not flexible any longer." Alt said he advised Nicklaus that stem cells would be the lowest risk way of treating him, "by healing the tissue and decreasing the inflammation."
The evidence to support Alt's claims are still in progress, and further proof is expected from an FDA approved clinical trial at Sanford Health in the US. According to Alt, his longest term patients are now four years out from their therapy.
"We at Sanford believe in the work that Dr. Alt has and continues to do, and have the resources to apply scientific rigor to stem cell research," said Dr. Mark Lundeen, Chairman at Sanford Health Department of Orthopedics.
Right now, there are four FDA approved adipose-derived stem cell trials at Sanford Health: osteoarthritis of the knee, osteoarthritis of the wrist, rotator cuff tear, and facet joints.
Nicklaus appears convinced: He's scheduled for his next stem cell treatment in Munich Saturday. The target this time: his right shoulder. It won't be an easy therapy, nor will it be cheap -- about $10,000 US for the treatment, plus the cost of travel and accommodations.
Why did Nicklaus keep this treatment a secret? "I didn't keep it private, no one asked me about it," he said. Adding, "I'm not a doctor, but I think that stem cell is going to change... the direction of orthopedics, totally."
Click below to read full story:
View Full Article