Please submit a brief summary of your service experience and why you believe stem cell therapy may benefit you.

Phil was an amazing man who was deeply loved by many; a true warrior both in the military and in life. Phil was a champion for those who truly needed help. He was a true giver of spiritual advice, money, help, unconditional friendship and his own time. Phil was a Purple Heart Recipient from his service while fighting in the Vietnam War, where he served as a door gunner on a Huey Helicopter. He had an appetite for life that few could sustain and few people have had a wider circle of friends that have all been touched so deeply by a single person.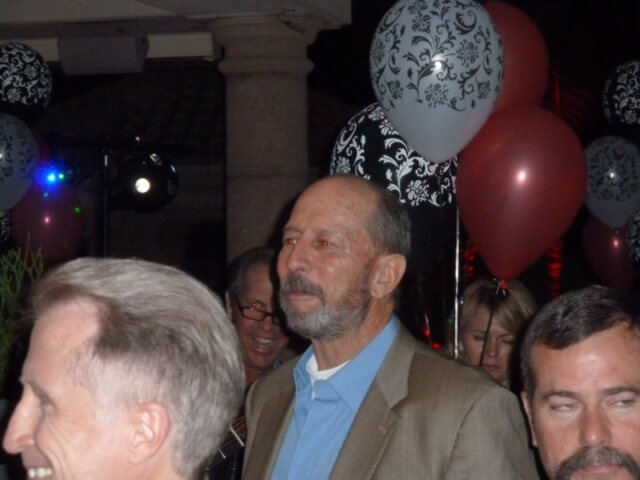 Living life to its fullest is what Phil was all about. He took the saying "If something is worth doing, it's worth overdoing" and ran with it across the world and back. Phil gave and shared more fun and laughter with those around him than most can lay claim to. His phenomenal sense of humor and razor-sharp wit revealed his unique intelligence and insight into human nature. Friends remember him as a fun-loving, motorcycle-riding, skydiving, meditating, vegetarian businessman and gun enthusiast. He was a firm believer in holistic medicine and spiritual guidance who practiced martial arts and filled his home with the scent of essential oils. Phil was, and still is, the embodiment of human kindness, love and strength. We all live and prosper under an umbrella of freedom and peace because of Heroes like Phil. Phil Campodall'orto, Tempe, AZ, was 61 years old when he passed away at midnight on October 11, 2012 due to complications from kidney cancer. Not a week goes by that we don't talk about him.
Note from Pat
This is a picture of our friend Phil of over 30 years. It was very interesting as he was visiting the Vietnam Memorial in D.C. with my brother Tim from Arizona. Phil never met a person he wouldn't go up to and talk with. It so happens Phil engaged this man in a conversation who was there, and it turns out he fought for the NVA against us. My brother said they laughed, cried, and hugged…. Both agree that it was their job but have forgiven all. Quite a moment! Pat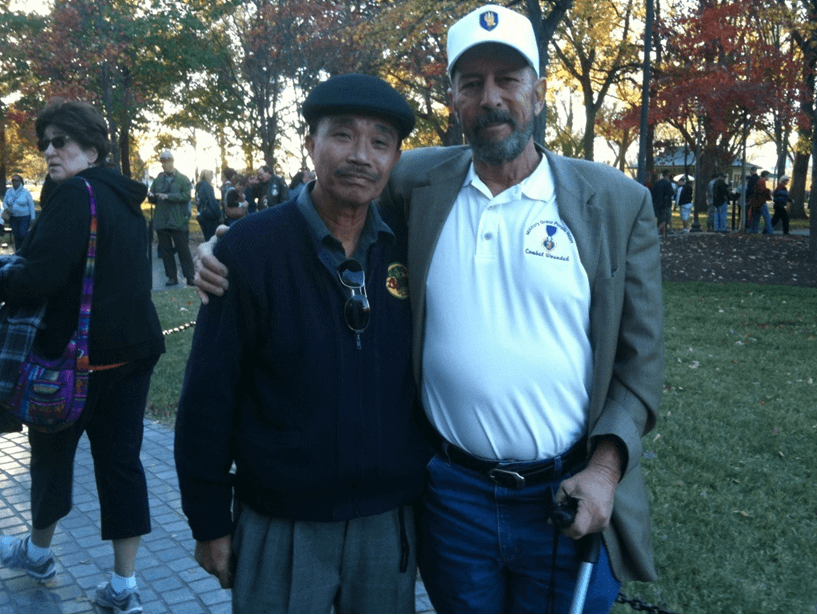 Note from Katy
Phil was my best friend, mentor, and a leader to me. He's inspired me to live my life….and never take anything for granted. On Thursday, October 11, 2012 I possibly heard the worst news of my live. Phil had passed away. I thought I had lost my best friend, mentor, and leader forever. At first I didn't understand. It's not that I didn't recognize it…it's just….I didn't want to believe it. There still are so many things I want and wanted to tell him. I didn't think he'd be gone before I could. You never realize how much you love someone until they're gone… Every day I would call his cell-phone and think he would answer. But he didn't. I would wait for his silver car to pull up to our drive-way. But it didn't. I would wait for him to come over and help me saddle my horse. But I never saw him. I would wait for him to tell to walk the dog or pick up the dog dirt. But he never told me. I would wait for him to start teasing me on why I'm not a vegetarian. But he never did. I would wait for him to tell me to give him a big hug. But he never came. And now I'm waiting to tell him how much I care about him. I am still trying to come to the fact that he will never do those things again on Earth. Maybe he will in heaven. What I have come to acknowledge is he will never be here, but he will be in my heart…forever. I will always love you, Phil. My leader. My mentor. My best friend. <3 Katy Farley