KRMC
Stem cell treatment or knee replacement surgery? The basics of both.
Stem cells or Knee surgery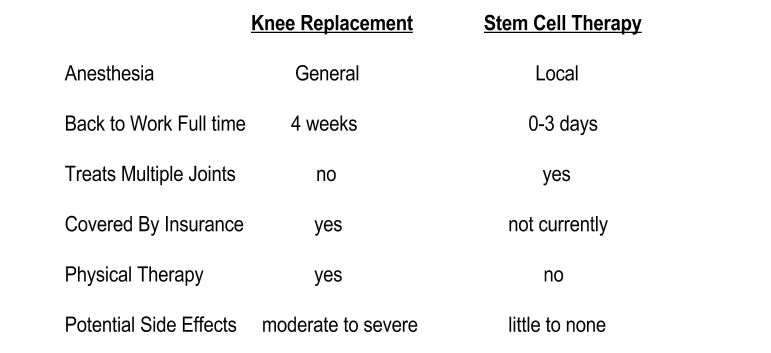 Knees take the brunt of our active lifestyles, so it's no surprise they're among the most popular body parts for regenerative stem cell treatment. In fact, one of the most common questions patients ask is, what's the difference between stem cell treatment for knee pain and knee replacement surgery? We wrote this easy overview to help you understand the basics of both.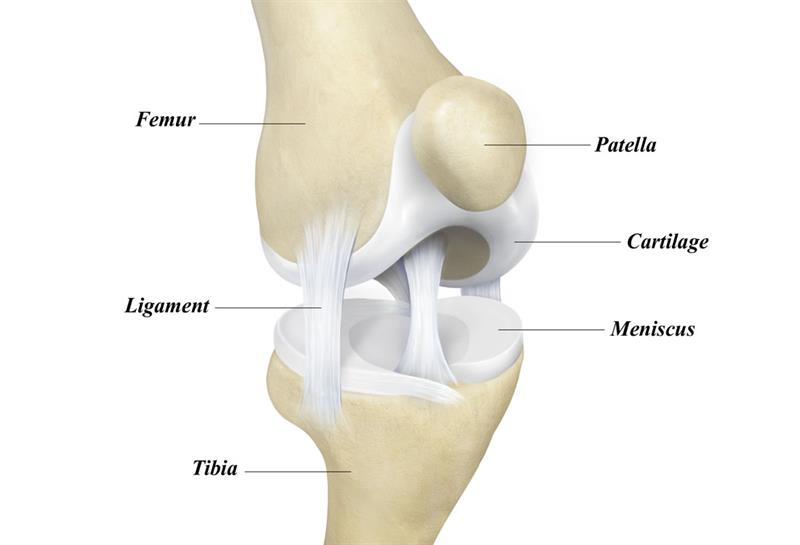 What are the procedures?
Your body creates stem cells to replace dying cells or heal damaged tissue. Our physicians collect stem cells stored in the adipose tissue – or fatty deposits – around your waist. We separate the adipose (fat) cells from the regenerative cells and inject those cells directly into your knee. This helps your body speed the healing process, alleviate pain, and even allows for the regeneration of new tissue. It's a one-time near painless procedure that takes about four hours.
During a knee replacement surgery, an orthopedic surgeon uses metal and plastic to resurface the parts of the knee damaged by arthritis.[1]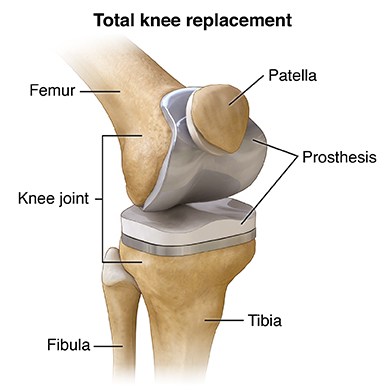 How much does Stem Cell Therapy vs. Knee Replacement cost?
Many patients may not be fully aware of the extensive benefits offered by a single stem cell therapy procedure, which has the capacity to address multiple joints. Remarkably, the cost of stem cell treatment averages around one-third of the expense associated with knee replacement surgery. What's particularly noteworthy is that, owing to the versatility of stem cells, it is feasible to undergo therapy for various joints simultaneously during a single visit. This means that individuals seeking stem cell therapy for both of your knees, as well as other areas like hips or wrists, can efficiently receive treatment in a consolidated session.
In contrast, knee replacement surgery comes with a considerable financial burden, averaging around $35,000 before factoring in insurance coverage. [2] However, it's essential to recognize that the actual out-of-pocket expenditure varies significantly based on factors such as the specifics of your insurance plan, geographic location, and the hospital where the surgery takes place. Importantly, this average cost exclusively pertains to the surgical procedure itself and does not encompass subsequent follow-up visits or the crucial phase of physical therapy. Furthermore, it exclusively addresses the cost associated with treating the knee, leaving other joints outside the scope of coverage.
It's important to note that, currently, the majority of insurance providers do not extend coverage for stem cell therapy. This underscores the significance of understanding the financial implications and advantages associated with both stem cell therapy and knee replacement surgery. By exploring these treatment options comprehensively, patients can make informed decisions about their healthcare journey, considering not only the cost but also the holistic benefits and potential for treating multiple joints in a single therapeutic session.
How long do they take?
Stem cell therapy is a single outpatient procedure that takes about four hours and a small amount of local anesthesia to numb the area.
Knee replacement is a major surgery that puts patients "under" or asleep with general anesthesia. The actual surgery lasts about two hours. Most patients have at least an overnight hospital stay, months of recovery time, along with follow-up appointments and physical therapy.
What's the recovery process?
Your body's response time dictates the stem cell therapy results. But there's little downtime needed after the procedure. There's a small incision that patients treat with Neosporin and a bandage for one or two days. There are no wounds to dress or stitches to remove. Most patients return to work and resume normal activities the next day.
There's no official follow-up appointment for stem cell therapy, but our physicians remain in contact with patients after the stem cell procedure to track their progress.
In the days after a knee replacement surgery, patients stand, begin basic movements, and walk with assistance. They'll have an incision with stitches or staples and will keep the wound bandaged and protected. They may ice their knee, take pain relievers, and use a cane to prevent falls. In the following weeks, they'll have a post-op doctor's visit and multiple physical therapy sessions. Patients can't drive until they're cleared by their doctor, and full recovery from the surgery can take months.[1]
What's the success rate of the procedures?
Our research shows that 80 percent to 85 percent of our patients say they're satisfied with the outcome of their stem cell treatment for knees. Patient satisfaction with knee replacement surgery ranges from 75 percent to 92 percent, depending on the source. [3]
What are the risks of each?
With stem cell therapy, sometimes a patient won't see the level of relief they hope for – despite the cells doing what they're supposed to do.
The risks stemming from knee replacement are like those from other major surgeries: pain and stiffness, infection, going "under" with general anesthesia, foreign objects or tools entering your body, as well as using metal or other materials to alter your body parts. In addition, there's the risk of the replacement wearing out over time.
Healthy knees are a must for an on-the-go lifestyle, and stem cell therapy is a great knee replacement alternative. Contact us if you'd like to learn more about the basics of stem cell therapy, find out if you're a candidate and how it may be an option for treating your knee pain – and other inflammatory and degenerative conditions.
http://www.hopkinsmedicine.org/healthlibrary/test_procedures/orthopaedic/knee_replacement_surgery_procedure_92,P07673
View Full Article