KRMC
Stem cell therapy gives former U.S. diplomat back his life
Noel Zuniga's experience with stem cells changed his life forever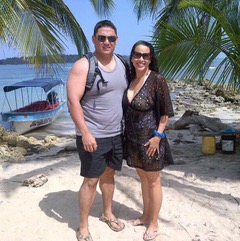 On March 18, 2013, Noel Zuniga's life changed forever. He was living in Panama on a U.S. diplomatic mission when he returned home from a run and had a heart attack. Noel suffered a "widowmaker" – a massive heart attack that can lead to sudden death.
While on life support, an air ambulance flew him from Panama to the University of Miami Hospital. His wife and three kids waited fearfully to see if he survived the touch-and-go situation.
First stem cell treatment
Noel was eventually approached by the University of Miami's Interdisciplinary Stem Cell Institute about being part of the TRIDENT stem cell clinical trial. The study looked at the impact of giving high- and low-dose Mesenchymal stem cells to heart failure patients. Noel participated in the trial and in June 2014, had donor stem cells injected directly into the damaged parts of his heart.
For cardiac patients, doctors look at the ejection fraction (EF), which essentially measures how well the heart pumps blood. A normal EF rate for a healthy adult is 55 to 65 percent. Immediately after his heart attack, Noel's EF was 18 percent, which is considered heart failure.
After receiving the donor stem cells through the TRIDENT trial, though, Noel's EF climbed from 18 percent to 35 percent. "That may not seem like a lot to most people but the cardiology team saw that leap as a major breakthrough," said Noel.
Noel went back to the University of Miami every three months for follow-up visits. And while his health dramatically improved, he felt frustrated by his limited activity.
"I have no doubt being part of the TRIDENT trial saved my life. Without it, I only had two or three years to live, so my future didn't look too bright," he said. "But I still wasn't where I wanted to be – where I was before the heart attack."
Research points to KRMC
Encouraged by his progress but wanting to do more, Noel explored options for additional stem cell treatments. He researched nearly 20 stem cell clinics, including one in Bangkok and another in Barbados.
Noel's research led him to KRMC. He did a consult with Dr. Frank Lyons, one of the center's physicians. He said Dr. Lyons was personable and that he liked the center's family atmosphere and no-pressure approach. Noel also talked with another stem cell patient who had a similar heart condition
"There are three clinics within three hours of my house in northern Virginia but there was something about Kansas Regenerative Medicine Center that made me say, 'this is the one,'" he said. "Their immediate response to my inquiry set them apart. KRMC took just a few days to respond, where most of the other clinics took at least a week."
In January 2017, nearly four years after his "widowmaker" in Panama, Noel and his wife traveled to KRMC's Manhattan, Kan., office from just outside Washington, DC. KRMC had a hotel room reserved for the couple. They met with the center's medical team and Noel had his second stem cell treatment.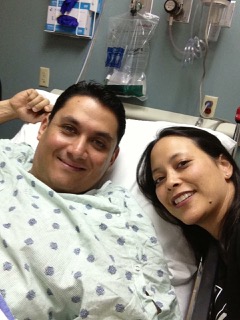 An IV transported Noel's own stem cells to his heart. Knowing he also had "runner's knee" or swelling and fluid in the joint, the KRMC medical team also injected cells in his knee. The next day, Noel had a follow-up visit with Dr. Lyons and then returned home.
Second treatment leads to big changes
"About two weeks later, I noticed some remarkable changes," Noel said. "My heart was very active. I didn't feel bad but I could tell there was a lot going on. It made me a little nervous so I called my cardiologist and he said I should give it a little time."
After six months, Noel said his heart calmed down and wasn't as turbulent as the first few months after stem cell treatment. The pain and fluid in his knee had also subsided.
Noel said he's seen a big difference since having the second treatment. In fact, he started a list for his doctor of all the positive changes that have happened since his second stem cell therapy.
Among the benefits on his list:
Breathing: Noel said his breathing normalized after about six months and that he's no longer short of breath. "My breathing is 100 percent better," he said.
Discoloration: Before his second stem cell therapy at KRMC, Noel still had discoloration in his left hand from the 2013 heart attack, which was an indication of poor blood flow. "But now there's no difference in the coloring of my right and left hands."

Sleeping: "I used to prop myself up to sleep because I was out of breath – even after my first stem cell treatment. But now I sleep soundly," Noel said. "I also used to get really tired but now I'm the first one up and the last one to bed. My kids have a hard time keeping up with me."
Appetite: Noel said he'd often get bloated after eating a meal. Because of that, he didn't really have an appetite. "That doesn't happen anymore. My appetite is back and through the roof!"
Heart rate: "It's about 320 meters from the parking lot to my office," Noel said. "My heart rate used to be about 115 when I walked into work each day. But after the second stem cell treatment, it's hard to get my heart rate past 80."
Noel's heart rate recovery time has also improved. "I intentionally try to get my heart rate to 150 or 160 beats per minute," he said. "It takes my heart about a minute to drop to 90 or 95 beats per minute or a near full recovery. This is an indication that my heart is healthy."
Before his heart attack, Noel said he was always in the gym. He ran almost daily and could bench press more than 400 pounds. In fact, on the day of the heart attack, he ran with a 60-pound vest for two miles. Doctors said his impressive fitness level likely saved his life.
In September 2017, more than four years after the heart attack and nine months after his stem cell therapy at KRMC, Noel returned to the gym. The 46-year-old does the stair climber for 30 minutes without stopping and follows that with a rigorous weight training program. Noel said he isn't breathing heavy and it's almost like nothing changed.
Soon, his oldest daughter will leave to play college volleyball. To prepare her to compete at that level, Noel trains with her at the track and gym. "I can't keep up with her because she's 18-years-old but I'm not far behind," he said.
Getting back his life
For anyone thinking about stem cell therapy, Noel believes it's the medicine of the future – but stresses the importance of doing your research.
"You have to be comfortable before you make that big decision. So do your research and talk to different people," he said. "I talked to about 30 people before having stem cell therapy again – my cardiologist, other medical professionals and other stem cell patients. They said it works. And I know it works."
Looking back on the four-year journey that took him from Panama to Miami to his Virginia home to Manhattan, Kan., Noel finally feels like his health is back to where it was before the heart attack. "Now it's just a matter of getting back into shape," he said.
"The first stem cell treatment saved my life," Noel said. "But the second stem cell therapy gave me back my life."